Today's guest post comes from Lisa, a mother, scientist, and personal finance enthusiast. She founded Mad Money Monster, a personal finance blog chronicling her and her family's journey from doing money all wrong to doing it all right.
She and her husband are known as Mr. & Mrs. Mad Money Monster on the site. They pride themselves as being Gen-Xers who have turned it all around and are now charting a course towards financial independence. Their goal is to inspire others just like them to take control of their financial future and realize it's not too late! 
Take it away, Lisa!
Sometimes, just sometimes, a person will have a dream so big that it starts to consume them. They stop spending time with friends, they focus all their energy into that one achievement, and they work their fingers to the bone until that achievement becomes their reality. This is not that story.
Late in high school, after a less-than-stellar academic career, I started to cultivate a dream of going to medical school. That dream simmered on the back burner until I actually realized I could go to college and do quite well. Until one day, I had a decision to make. My medical school decision came around the year 2002. And with that, let me tell you a story.
Medical School Prep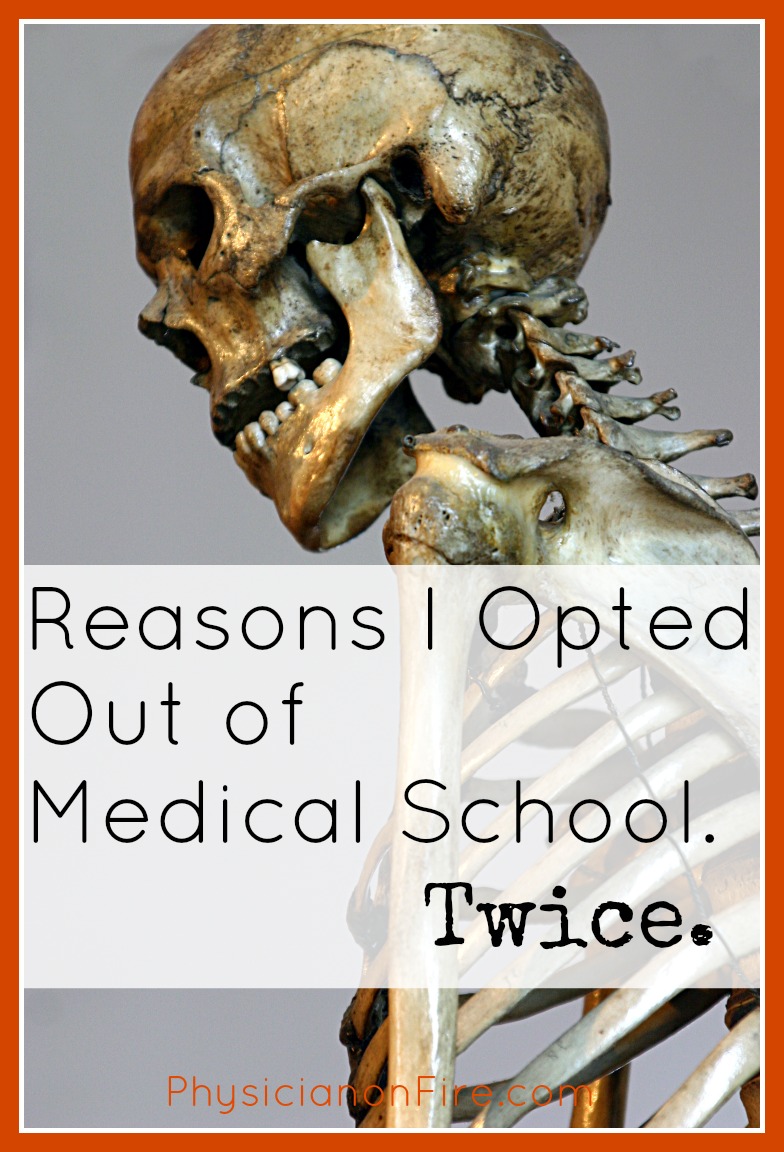 Because I came from a lower-income family, there wasn't any money put aside for college. In fact, I only realized I could pay my own way through school after meeting an engineer at my first real job, post high school.
He laughed heartily at me when I told him I wasn't smart enough for college and couldn't afford to go. Enter my introduction to community college. He opened my eyes to an alternative route to the same destination. I took it.
Within days, I had applied and was accepted to the local community college. Of course, I had no idea about open admissions at the time; I was just ecstatic to be a real college student.
I worked during the day and took classes at night. My community college experience lasted for 4 years until I transferred to a private college via an academic scholarship.
I didn't major in biology. Instead, I took a less traditional route, but still made sure to take most required courses as electives. After all, ALL the books I had read directed readers to major in whatever, as long as you were also taking the necessary science and math classes. Everything I was doing up until that point was focused on getting into medical school. Everything.
Not only was I working my butt off to put myself through school, but I was also volunteering in the emergency department and cardiac cath lab at a local city hospital. That, coupled with my almost perfect GPA and unique story (at least I thought it was unique) meant I was well on my way to that lofty dream I concocted so many years ago.
My Medical School Decision Process – Part I
And then, something happened.
As I was nearing the end of my undergrad career and gearing up to take a couple more courses I still needed for the MCAT and admissions process, I realized I was already on the other side of 25 years old, meaning I was 26. As I sit here today typing this, it seem silly. But from the viewpoint of my 26-year old self, I was getting old.
On top of those doubts, I was getting tired. I was getting so tired. My college career started 7 years prior to that point in time, and I was losing steam. Fast.
Remember, I started my undergrad journey at 19 and lasted for 7 years due to having to work full time while getting through community college. For most other people, 7 years gets you an undergraduate degree and one year away from medical school completion.
And the additional classes I needed to take for the MCAT would've pushed me back another 2 semesters. Between medical school and residency, I was thinking I had at least another 8 years ahead of me. And those 8 years would've been tough years.
In addition to being exhausted, my biggest concern was pushing off pregnancy until I was around 34 years old.  In my eyes, it was a huge gamble to assume my relationship and/or eggs would be there waiting for me on the other side.
I Opted Out
And, I was tired. Did I mention I was tired? I opted to take the road more frequently traveled. I opted to look for work with my undergrad degree. It worked. Within months, I was gainfully employed by a global pharmaceutical company. And, I was mostly happy. I had relegated my medical school dream to the back burner for good.
After a few years working in the pharma industry, I resided right around here on the continuum of regret.

Fast Forward 13 Years
My life went on, as life does. My relationship disintegrated a few years later and I rebooted my entire life at 31 years old. The only mainstay? My pharma job. Eventually, I met a great guy and married. We now have a 7-year old daughter and life is fabulous. But 2 years ago, that little medical school dream of mine went ahead and reared its ugly head.
My Medical School Decision Process – Part 2
I remember it like it was yesterday. I was completing my master's degree and was required to take a few scientific courses. Those courses fueled the flames of that simmering dream. And there I was, 13 years later, considering the possibility of medical school. Again. Except this time I had a husband, a daughter, a house, pets, and all the trappings of an adult life.
I Opted Out. Again.
There it was, my medical school decision to make a second time. I had the backing of my husband and enough financial stability to make a go of it.
After a few years since deciding to not pursue medical school again, I currently reside right around here on the continuum of regret.

Cons Of Not Going To Medical School
Regret Can Be Difficult To Swallow
Finding Career And Personal Fulfillment Elsewhere – This Is A Big One
Missed Financial Opportunity
Pros Of Not Going To Medical School
No All-Nighter Study Binges
No Massive Medical School Debt
I Don't Worry About Being Sued Too Often
Increased Time To Pursue Other Interests
Increased Flexibility With Earned Income – No Huge Loans To Repay
Time Passes – Regret Doesn't
I still think about how drastically different my life would've turned out had I decided to press on when I was tired and not given so much consideration to my aging eggs when I was 26. Oh well, time passes, unfortunately regret does not. This is a regret but, surprisingly, it's not a big regret.
Overall, I am very happy with my life and my family. Part of me wonders if I am happy because I am truly happy, or if I'm happy because I can't change it now and I better make the best of it. It's funny how I can't differentiate between the two. Maybe that means it's actually the former.
[PoF: Let me start by stating the obvious so we don't have to rehash this piece in the comments. Lisa twice opted not to apply to medical school, which is not the same as getting an acceptance letter and dropping it the paper shredder.
That being said, I think many bright young students and successful mid-career scientists often face similar decisions. The first time she opted out, she was facing issues that are common among women. What about children? Being a "good wife," etc… Many women have navigated medical school, residency, marriage, and pregnancy successfully, but it's a path strife with challenges.
The second time she opted out, family matters were again prominent, but she also had to consider the same obvious factors that affect anyone considering starting medical school around age 40. Up to a decade of lost wages, massive student loans, and being expected to perform at the same level as the twenty-somethings, many of whom will be single and / or childless.
Personally, I think if it was a calling for her, the first opportunity was clearly the better one. However, it's quite clear she landed on her feet and is on a path to financial independence that might be easier than if she had chosen pursue her dream of becoming a physician. 
Back to Lisa for closing questions — it would be great to hear your thoughts in the comments. If you enjoyed her post, be sure to check out more at her site: Mad Money Monster]
What are your thoughts? Did I make the right decision once, twice, or not at all? Have you ever decided against something and then regretted it later? What's your experience with education/career regret?