Where do millionaires keep their money?
In small, unmarked bills in a briefcase behind sheetrock in an unused basement room?
In a 60/40 portfolio?
In their businesses?
The answer can be different for each person, as you might imagine, but in this guest post, from Of Dollars and Data, we take a look at some common positions courtesy of a Vanguard study.
If you've ever wondered, "Where do millionaires keep their money?" then you're not alone. Many people are curious about the financial habits of the wealthy, and for good reason. Having a better understanding of how millionaires manage their money can help us learn from their successes and potentially improve our own financial well-being as well.
In this blog post, I'll explore the various options available to millionaires for storing and growing their wealth. From traditional asset classes to more exotic investments, we'll take a closer look at the strategies millionaires employ to protect and grow their fortunes. Whether you're a millionaire looking for new ways to manage your money or just someone who wants to learn from the best, this post has something for you.
How Do Millionaires Invest Their Money?
To figure out how millionaires invest their money, I will be examining the three primary investment decisions that impact their returns (according to the late pioneer of institutional asset management David Swensen):
Asset allocation: What asset classes do millionaires invest in.
Market timing: When do millionaires buy/sell those assets.
Security selection: How do millionaires choose which securities to buy within an asset class.
To do this, I will primarily be relying on Vanguard's 2020 How America Invests study, which examines how affluent households (those with at least$500,000 in investable assets at Vanguard) invest their money. While not all of the households in this study are millionaires, the vast majority of them are. The median household in the study has over $1 million with Vanguard and those below the median have assets outside of Vanguard (i.e. real estate, non-Vanguard accounts, etc.) that make most of them millionaires as well.
With that being said, let's address the first part of how millionaires invest—their asset allocation.
Start receiving paid survey opportunities in your area of expertise to your email inbox by joining the All Global Circle community of Physicians and Healthcare Professionals.
Use our link to Join and receive a bonus of up to $50 .
What Asset Classes Do Millionaires Own?
According to Vanguard, the asset allocation of a typical millionaire household is:
65% Stocks (Equity)
25% Bonds (Fixed income)
10% Cash
As you can see in the chart below, this allocation has been relatively stable over time as well: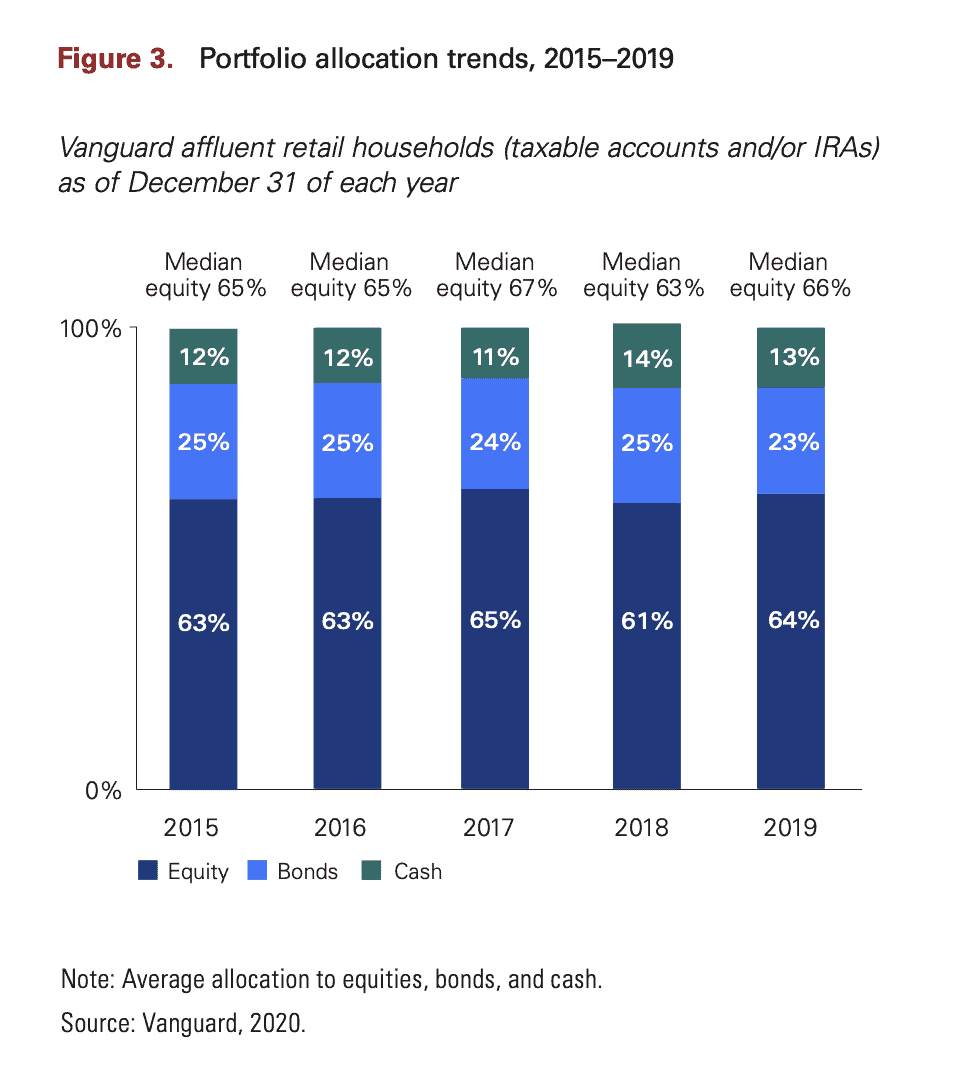 This gives us a good idea of how millionaires tend to invest their money within their investment accounts on average. However, it doesn't tell us anything about how those allocations change over time within households. Since the chart above is the aggregate allocation across all households, we don't get to see any age-related allocation changes.
Fortunately, Vanguard provides a breakdown of allocation by household age in their study as well. We can see this in the table below which shows that households under 45 tend to allocate around 75% of their portfolios to equities, while households older than 65 allocate around 60% to equities:

What happens to the money that comes out of equities as these affluent households age? It goes into fixed income.
From the table above, we can see that the fixed income allocation of affluent households nearly doubles from age 50 to age 80. In other words, affluent households tend to go from 15% bonds to 30% bonds as they enter retirement.
But, what about other asset classes? Don't millionaires invest a lot of money outside of stocks, bonds, and cash? According to the 2017 U.S. Trust Insights on Wealth and Worth, the answer is "Not really."
As their study shows, high net worth households (those with over $3 million in investable assets) had the vast majority of their wealth in stocks, bonds, and cash, with less than 7% of their investable assets in alternatives: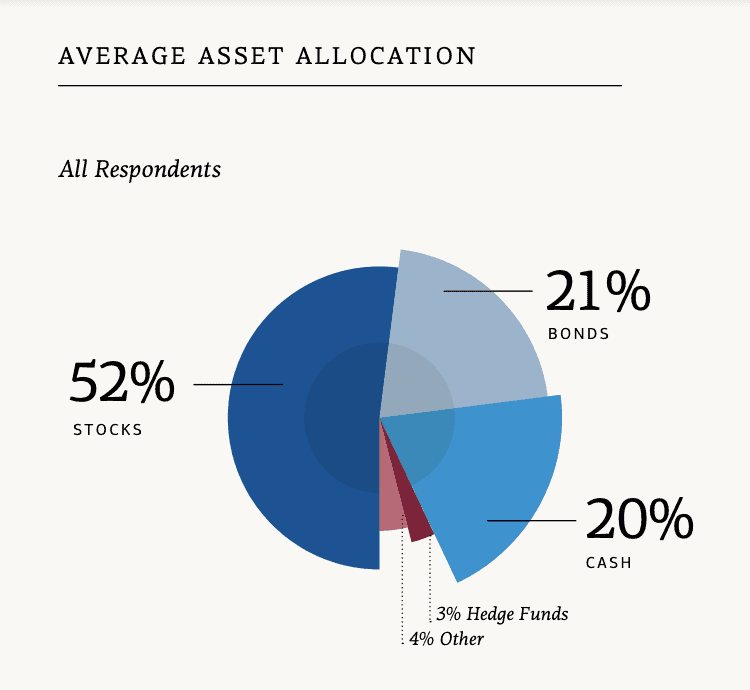 This suggests that what we see in the Vanguard's How America Investsstudy is representative of how the typical millionaire household allocates their money. They own typical asset classes and not all these exotic investments like the financial media might have us believe.
Of course, these studies exclude personal real estate and ownership of an individual business, both which can be significant. As Thomas J. Stanley and William D. Danko stated about the typical millionaire household in The Millionaire Next Door:
On average, 21 percent of our household's wealth is in our private business.
Once we include ownership of private businesses and real estate, the typical millionaire household's allocation to traditional asset classes like stocks and bonds is a bit lower that what has been advertised above.
We can see this more clearly if we look at the chart below (from VisualCapitalist), which highlights how household net worth is broken out across different wealth tiers. In it we can see the percentage allocated to a primary residence, vehicles, business interests, and much more: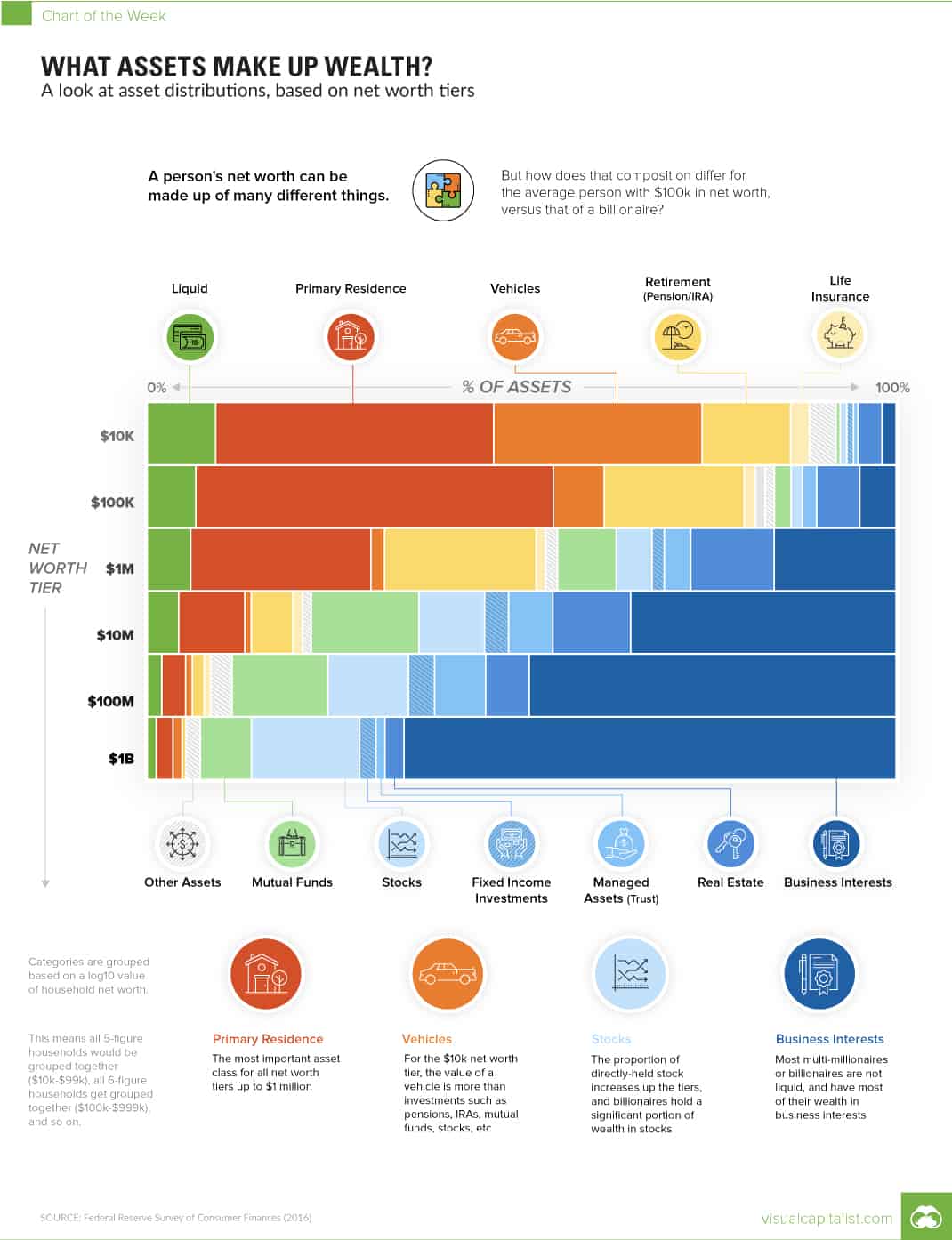 As you can see, millionaire households have about 25% of their wealth in their primary residence and 15% in business interests (trust me I measured the bars). This implies that the typical millionaire has a 60% allocation to stocks, bonds, and cash. More importantly, this percentage seems to decline as households get wealthier. Once you become a decamillionaire or centimillionaire, business interests began to dominate most of your wealth.
Now that we have a rough idea of how millionaires allocate their assets, let's look at their buy and sell decisions.
Do Millionaires Try to Time the Market?
When it comes to trying to time the market, affluent households are quite tame. As the table below (from Vanguard) illustrates, a little over half of all affluent households traded their accounts within a year, and when they did they only traded about 10% of their total assets: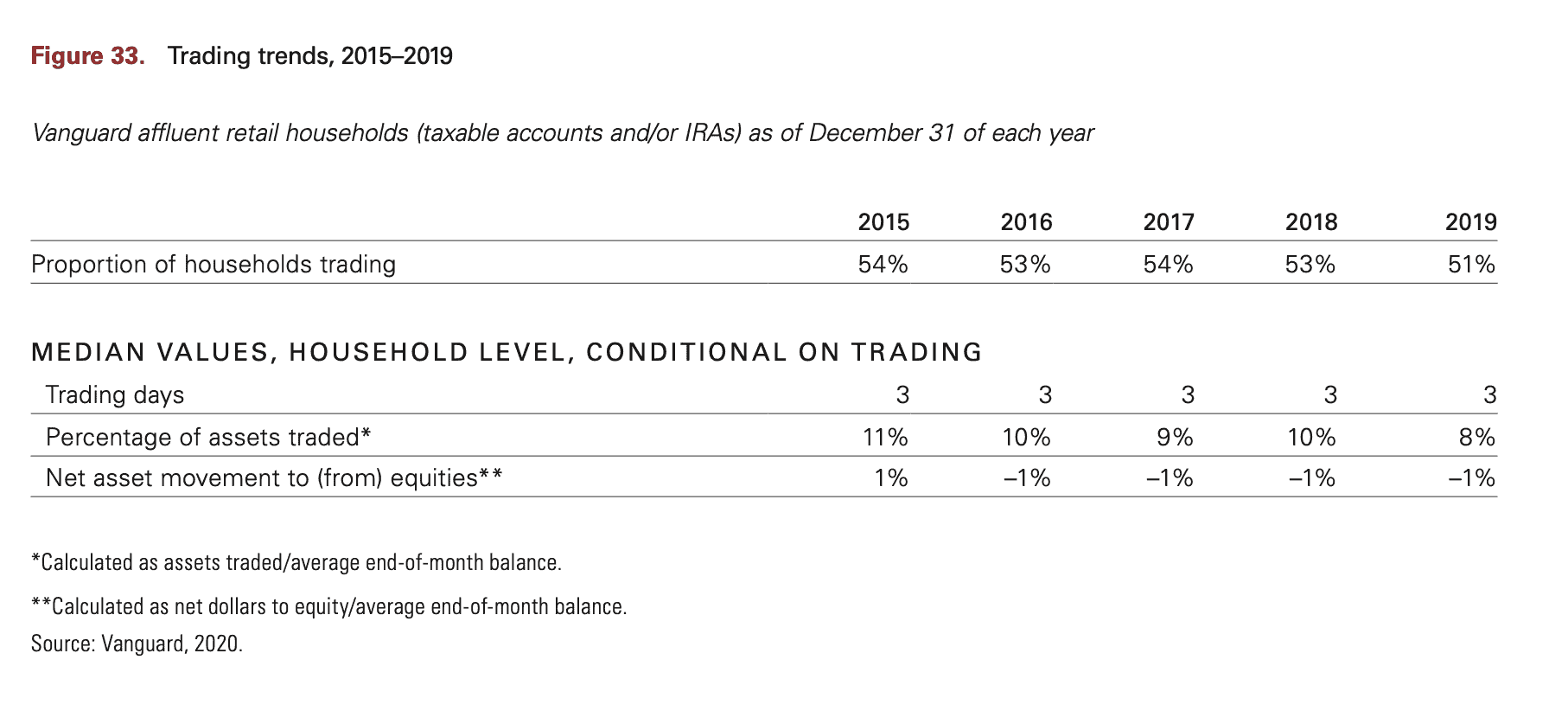 This suggests that millionaire households aren't trying to time the market. And this isn't just an artifact of the relatively calm market stretch from 2015-2019. During the market crash of March 202
0, only 11% of Vanguard investors made any active trades.
And this isn't just a Vanguard thing either. The Millionaire Next Door comes to a similar conclusion when describing the typical millionaire household (emphasis mine):
We hold nearly 20 percent of our household's wealth in transaction securities such as publicly traded stocks and mutual funds. But we rarely sell our equity investments.
From what I've seen between these two data sources, it seems clear to me that most millionaires aren't trying to time the market in any meaningful way. They invest and let it ride.
Now that we have looked at market timing, let's examine how millionaires pick which securities to buy within an asset class.
How Do Millionaires Pick Securities Within an Asset Class?
When it comes to how millionaires pick securities within an asset class, the answer is—diversification. If you look at the investment product choices that affluent households make, you will see that the vast majority use mutual funds (which tend to be diversified), with only one-third of them owning any individual securities (i.e. individual stocks):
card_name
Intro APR
intro_apr_rate,intro_apr_duration
Regular APR
reg_apr,reg_apr_type
Recommended credit
credit_score_needed
Bonus Intro Rewards
bonus_miles_full
read more