Today's Saturday Selection from Dr. Peter Kim is one of my favorites. It speaks to the truth about passive income, specifically the fact that "passive" can be a bit of a misnomer, particularly early on.
My favorite form of passive income is the return I receive in both capital appreciation and dividends from my index fund investments. That's about as passive as it gets.
I also earn some passive income from investments in crowdfunded real estate deals. These are mostly passive, but require a little more education and due diligence.
Investing in single family rental homes is not so passive, as highlighted in this recent guest post from Rachel Hernandez.
There are many ways to earn passive or semi-passive income, and PIMD makes an honest assessment of what passive income really is. This post originally appeared on Passive Income MD.
Five Things That Need to be Said About Passive Income
It's been a little over two years since I started this journey of blogging about passive income, and I've learned so much along the way. The term "passive income" has come to mean something very different to me over these years.
I used to think that passive income was simply earning money in a way that isn't proportional to the time you put in. And while this is true on the most basic level, what I didn't realize all those months ago is all the other stuff that comes with passive income and how the journey affects you.
With the benefit of hindsight, it's easy to see how my mindset has changed as I've learned new things. Here are a few things that I've come to realize throughout this journey that I hope you've learned as well.
Passive Income Isn't Completely Passive
It may seem discouraging to learn that passive income is almost never completely passive. Becoming a master of creating passive income doesn't mean you do nothing and watch the money start rolling in. If income with no effort is your ultimate goal, it's likely that you're either going to get scammed, or you're taking an extreme risk and putting yourself in a potentially bad situation (essentially playing the lottery).
It's true that passive income can result in time freedom. But getting to that point requires either time, money, or energy (or any combination thereof). Sometimes it takes a ton of hustle to get a business off the ground, but once it's going, the gains continue to increase with the same or less work.
This blog, for example, has been the opposite of passive in many, many ways. In the beginning, I put in a ton of hours and didn't get paid anything for it, wondering if anyone would ever read the words I typed. However, over time and with consistency, it's gotten to a point where it does produce a significant income that continues to increase.
(If you'd like to know how much income or are interested in what my sources of income are, feel free to subscribe to our newsletter.)
Even investing in a real estate fund, which many consider to be one of the most passive ways to invest in real estate, takes some work up front. I recently made a $50,000 investment in one, but it required a good amount of time (weeks to months) and effort upfront to understand which investment to make.
This is also true of investing in the stock market. One can achieve a great degree of passive income here – once they make the purchase of a stock or mutual fund, all a person needs to do is wait for appreciation to occur. But again, making those first few decisions can take an excruciating amount of time to research and shouldn't be taken lightly.
Passive Income Gives You the Choice to Do Nothing, but Most People Don't End up Doing That
When most people dream of passive income, they picture themselves relaxing on a beach, drink in hand, only occasionally checking their phone to watch their bank account balance grow.
But in reality, I've found that people who have achieved financial freedom through passive income end up pursuing their passions rather than just laying around.
Many continue to stay at their jobs as physicians because they enjoy what they're doing. They may go part-time or retire gradually, but they still continue to practice on their own terms.
Look at bloggers like the White Coat Investor and Physician on Fire. Both have achieved financial independence, and PoF will soon retire full-time from medicine. However, you'll see them both actively online sharing their mission because that's what they're passionate about.
Fortunately, I have the option to stop working in medicine if I wanted, but I choose not to because I truly enjoy what I do. Still, financial independence has given me the ability to make that choice and has allowed me to do what I enjoy without the stress of relying on my full-time job for all of my income.
Passive Income Takes Time to Develop
When it comes to passive income, "hustle" is the most important word of all (channeling my inner Gary Vaynerchuk). Well, other than "persistence."
Many people talk about desiring passive income, but very few people actually take action. Most will get stuck in "analysis paralysis" and never take that all important first step.
What I think most don't realize is that the goal of your first couple steps is really all about getting an education in business/finance/investments. I feel that people often put too much pressure on themselves to hit the perfect home run on the first shot. When you look at wildly successful people, most will tell you that it is their failures that allowed them to be successful today. You can never truly learn without failure, and you can never fail if you never try.
In fact, most people quit before they get to where they need to be. It reminds me of the cartoon where the miner gives up, mere inches away from hitting the motherlode. Because the first few steps aren't easy and have a higher risk of failure, most people don't persist–or worse, never even try.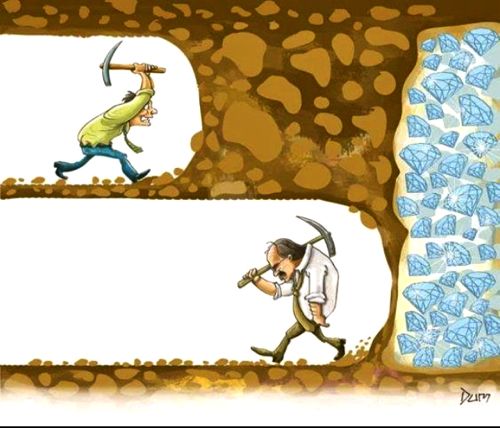 There Are So Many Different Ways to Develop Passive Income
Although I wrote a post titled "10 Perfect Passive Income Ideas for Physicians" fairly early on in this blog's life, I really thought that for most people, passive income would come from two main sources: real estate investment property ownership and online businesses.
What I didn't realize is just how many different ways there are to develop and achieve passive income. In interviewing other physicians, I've learned that there's definitely no one set path.
The ways to achieve financial independence are as diverse as the people who undertake the journey. When I look at all of these successful people, however, the one unifying factor is the desire and belief that you can make it happen.
People are doing it with social media, with podcasts/blogs/YouTube, real estate investing, and through other businesses. It is amazing how many different physician side hustles there are. In fact, we have a great time discussing them in our community facebook group, Passive Income Docs.
The bottom line is this: don't limit yourself by following someone else's blueprint. Instead, use others' experience as a springboard to launch your own ideas and make the journey your own.
Anybody Can Earn Passive Income
I used to wholeheartedly believe that it takes a certain kind of personality to achieve these financial goals. I thought that people were born with an innate ability to make savvy decisions, almost like a sixth sense.
However, I've since come across physicians at all points of the spectrum. It's amazing what people are doing, and what I've realized is that it can truly be anyone. You don't need to be born a financial savant to reach these goals.
In fact, I believe anyone reading this site has already taken more steps than the average person to make it happen. You've sacrificed time you could have spent watching Netflix in order to read blogs like mine or those I recommend.
These last two years have brought dozens of emails from people telling me of their successes and how they've been able to create passive income and cash flow from multiple sources of income, and all the ways it's already affected their lives. I absolutely love hearing these stories, and I would love to hear even more.
So if you've been dreaming up passive income ideas and just haven't taken that first step, realize that there's no right way to begin. All you can do is get going and get learning.
What other things do people need to know about passive income?