Chad "Coach" Carson
, a real estate investor, blogger, family man, and long-term international traveler.
I talk about slow travel
, but my three-week adventures pale in comparison to the nearly year and a half that he and his family of four is wrapping up in Cuenca, Ecuador.
I met Coach Carson on his last trip stateside in the fall of 2017 at the blogger's conference known as FinCon. He's as humble as he is tall and has a great mind for business. One might not expect a former All-American linebacker from Clemson and Rhodes Scholar finalist to be so grounded, but Coach does not come across as someone who annihilated quarterbacks to earn his keep in college.
He's been living our dream with a location independent life and income streams that more than support his desired standard of living, and making it happen several years before his fortieth birthday. If he had followed through with his original plan to become a medical doctor, I don't imagine that would have happened.
Let's get to know Coach a little better. Ready… break!
What's a Christopher Guest post?
Inspired by Nigel Tufnel, the character portrayed by Christopher Guest in Spinal Tap, I took Mr. 1500's ten questions, and amped them up to eleven.
If you're not familiar with the scene, take 50 seconds to watch this video and enjoy the dialog between Nigel and Rob Reiner.
I decided I'd start a Q&A of my own. Not satisfied with just ten questions, "this one goes to eleven". Just like Nigel's amplifiers.
What do you do (or did you do) for a living? What do you like best about your job? If you were a physician, what type of a physician do you think you would be? Why?
Since I graduated from college in 2002, I have been a full-time real estate investor. I have used house flipping, rental income, and interest income to pay the bills ever since.
I most of all enjoy the freedom and flexibility that comes with being an entrepreneur. I've never had an office, a rigid schedule, or a boss to report to. This has allowed me to play lots of midday basketball and travel for long periods of time, like my current 17-month trip with my family to Ecuador.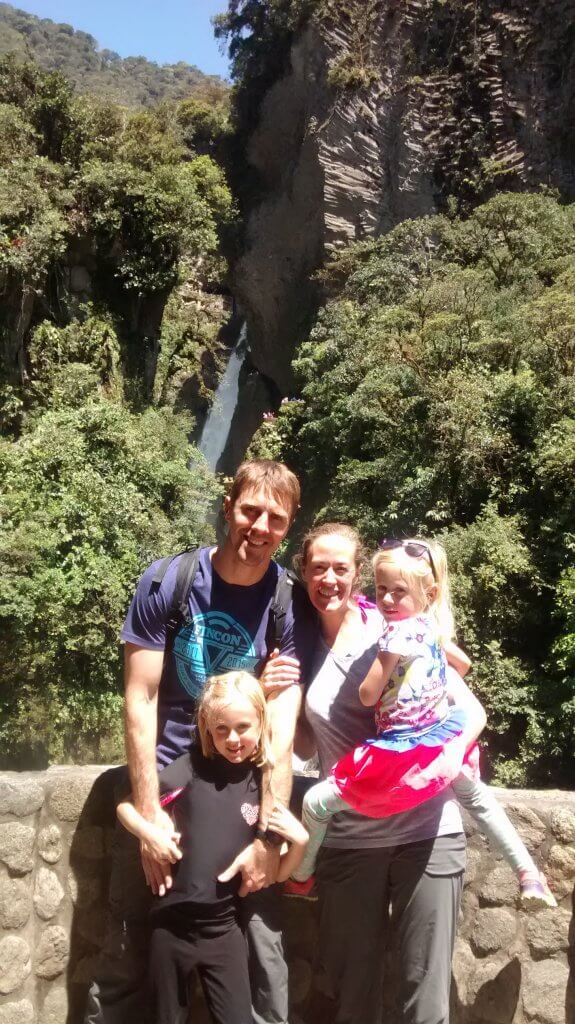 I actually intended to be a physician after graduating with a Biology degree in college. I observed surgeries with my football team's orthopedic surgeon, took the MCAT, and applied to 5 medical schools. But I withdrew the applications soon thereafter.
After the grind of a college football career, I wasn't yet ready for another long grind of more school and residency. So, I decided to try real estate entrepreneurship for a year or so, fully intending to reapply to medical school later. But you see how well that plan worked out 15 years later!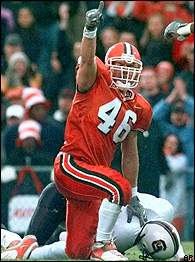 If I were a physician, sports medicine would be interesting because of my long fascination with and participation in athletics. But I also think I would enjoy the breadth and human interaction of being a general physician.
[PoF: I recall Robert Smith, another college football star with strong academics, putting off medical school for to see what he could do in the NFL. The plan, at least according to interviews at the time, was to apply to medical school, but I can't blame him (or you) for not taking on the rigors of the education and training to become a physician when you had alternate paths to success.
As I said in the intro, your life would probably look a lot different if you had, and you would not be financially independent or location independent in your thirties.]
Describe your blog and tell us why your blog would appeal to a physician seeking FIRE in eleven sentences.
My blog coachcarson.com is about two primary topics – financial independence and real estate investing. My niche is helping people use real estate to retire early, either as a primary or secondary investment vehicle. Real estate is a great tool both to build wealth and to produce income during retirement.
I think my content would appeal to physicians because I take a bottom-up approach to my writing and education. I start with foundational principles, like how to choose a target investing market or how to run the numbers. Then I build on those with stories, case studies, and more advanced concepts.
Also, my mother was a high-earning dentist and my father was a real estate investor. They used that 1-2 combination of high earnings and rentals to build their own retirement portfolio. So, I have a lot of behind-the-scenes experience that could be helpful for physicians hoping to reach financial independence early.
[PoF: I'm the son of a dentist, so we've got that in common. 
I haven't had much luck with real estate, but I've only used it as a place to live, rather than an investment. I also didn't have much luck on the gridiron. I found out there weren't many non-bench positions for a slow 95-pound sophomore in high school, as badly as I wanted to be out there.
Physicians have the money to invest in real estate, but not many have the time (or take the time) to learn the trade, do proper due diligence, and manage properties (or build a team to do so). The proliferation of crowdfunded RE sites has made it a bit easier to dabble in it, but of course, that's not the same.]
What inspired you to start a blog of your own? Was there a particular event you remember that made you feel your blog had arrived? Any big plans for your blog in the future?
I started my blog because I love to learn. It was an outlet to organize and share my ideas as I learned and applied them in my own financial journey.
In the beginning, I just wrote for a small email list of people who had taken local classes or done consulting with me in and around my home of South Carolina. Then I finally realized by attending FinCon in 2015 that there was a BIGGER world out there on the internet.
Soon after, I got an article called How to Retire Rich With Embarrassing Old Cars and Ugly Houses featured on RockStarFinance.com. It then got mentioned in a Toronto newspaper column, and my site was bombarded by visitors. That got me hooked.
[PoF: The wider your reach and the bigger the audience, the more fun blogging can be. I was excited to get a few hundred pageviews a day after a few months. A few thousand a day is even more addicting!]
Give me eleven posts you think Physician on FIRE readers might want to read.
I'll break my recommendations into categories.
Financial Independence/Early Retirement
Real Estate Investing Fundamentals:
Other Interesting Reads
[PoF: The titles alone have me tempted to hit "sell" on my index funds! Well, not quite, but this is an outstanding list of resources, and I know you've got more than eleven posts with high-quality, actionable advice on real estate investing.]
At what age are you most likely to retire (or at what age did you retire) from full-time work? What are you doing to help realize your retirement target?
I don't ever plan to stop working in some form or fashion. Entrepreneurship is more of a game than work for me. But starting in 2017, I drastically cut the number of hours I spend in my real estate investing business. I average about 1-2 hours per week, which I primarily use for paying bills, reviewing accounting statements, and communicating with my property managers.
I now like to spend most of my time doing the most enjoyable activities that also make a big impact. Writing and teaching is one such activity. And putting together deals and managing my portfolio from a higher level is another.
I got to this point by focusing on:
Income generation – It's much easier to step away when the money keeps coming in after you stop working. Real estate, in particular, is attractive for this purpose because you don't have to sell properties in order to earn that income. Rental or interest income (from real estate notes) just keep paying you month after month.
Systems and processes – The #1 objection I get from would-be real estate investors is that it's not passive enough. I also hear that they don't want to deal with tenants or toilets. This can all be solved with systems and by delegating to competent people who can run those systems. Real estate is best understood as a hybrid business-investment, so you have to treat it as such in order to free your time. Two books, the Emyth and Cash Flow Quadrants, really got me started with this "passive income from systems" mindset.
[PoF: "Entrepreneurship is more of a game than work for me." Excellent point. I have a hard time reconciling why I put in as much time and effort as I do into this online enterprise of mine, but I do like to see how well I can do in this game.
I've never been good at delegating or hiring help. That's another thing I could learn from you. I also like your comments on "retirement." I feel that anyone industrious enough to become financially independent at an early age is unlikely to just kick back and do nothing productive.]
What does an ideal retirement look like for you? What will you do with your time when full-time work is in your rearview mirror?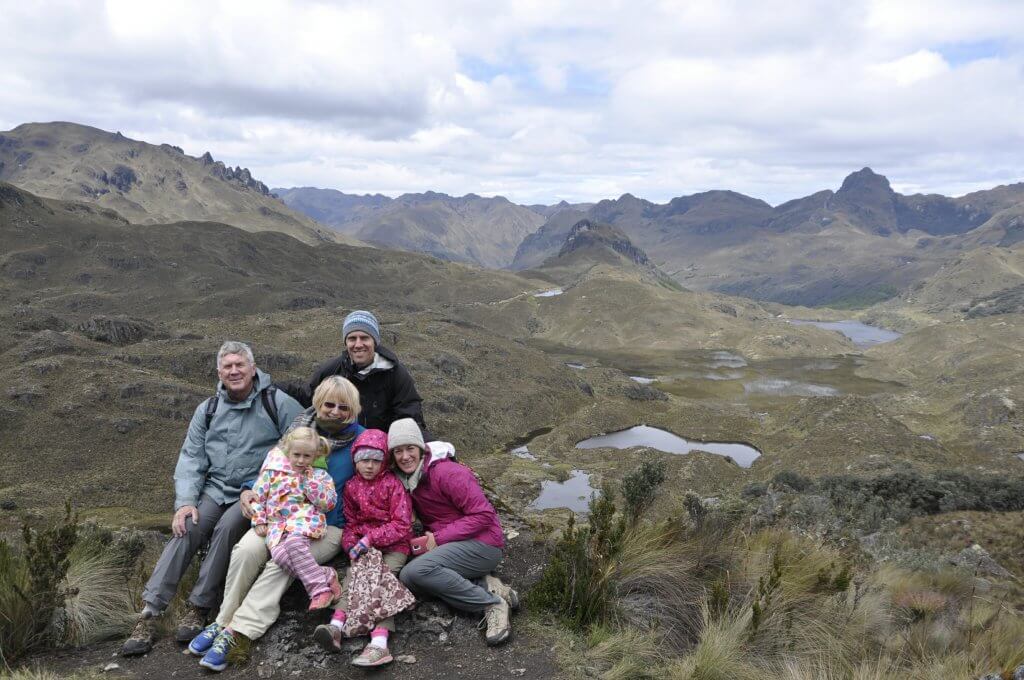 An ideal retirement or really an ideal life for me includes:
Growth – I enjoy getting better and always striving to be my best. I enjoy new challenges and opportunities. Parenting has certainly been my biggest growth experience thus far. Exercise, travel, learning foreign languages, entrepreneurship, blogging, and teaching.
Service – I don't want to exit this short life having only focused on myself. I want my wife, kids, family, work colleagues, business partners, blog readers, and society to know that I cared and strove to make a difference in their lives.
Fun – Life's too short to not enjoy the process. I love playing basketball, traveling, hiking in nature, learning foreign languages, reading, and listening to music. I also love spending time with my family, including some crazy Friday night dance parties with my 4 and 6 year-olds in the kitchen!
[PoF: Everybody dance now! 
Your breakdown represents a life that sounds both ideal and noble. Active in many ways, all of which are for personal and greater good. Bravo.]
I'll give you eleven sentences to dish out advice to a young physician. Any and all advice is welcome. We talk about personal finance, so money is fair game, but if you have advice on being a better doctor, a better parent / spouse / friend / human, we're all ears.
I have two pieces of advice for a young physician – one practical and one more philosophical.
First, don't make the mistake of buying a dream house too early. You can lose HUNDREDS of thousands of dollars in opportunity cost because you didn't pursue a financially smarter housing option first – like house hacking, live-in flips, or live-in-then-rents. [PoF: Forget opportunity cost. I lost hundreds of thousands of actual dollars when we sold the dream house we had built.]
You have plenty of years left to live in a dream house, so take the first 5 to 10 years of your working life to think of your housing as an investment.
Second, think long and hard about what matters to you. It's easy to get caught in the momentum of life, a career, and a family to the point that you lose sight of the hopes and dreams you had when you were younger. Those earlier-in-life insights are an important part of yourself, so figure out a way to acknowledge and realize them in some way.
For me, it was the idea of extended travel internationally. My wife shared that dream, and we're now building our life around that as a priority while still in our 30s. FIRE and successful wealth building is an important step to help you regain autonomy over the activities and direction of your life.
[PoF: I already blew it on number one, but we're doing our best to embrace number two. I didn't think to reflect too much on what we wanted out of life as a young physician. We were too busy living in the present.
Once we realized we were financially independent based on our invested assets, we started to create a vision for our future that looked a lot different than our current life. Extended international travel is a part of our vision, too.]
You've got eleven days to visit anyplace in the world with an $11,000 budget. Where do you go and what do you do?
I'm currently in month 13 of a 17-month trip abroad with my family. So, travel within the US actually appeals to me more right now when I get back.
So, I think I would use the money to travel to Yosemite National Park in California with my family. We'd probably camp in the high-country most of the time, so I doubt we'd use all the money. But I'd buy the best damn camping food and craft beer possible, and I'd hire some dirt-bag hikers and rock climbers to come along with us to help carry our supplies and to hang out. After the trip was done, I'd give them the rest of the money that's left over so they could keep being dirtbags a little longer:)
[PoF: That's interesting to hear you say that. International travel is glorified, and there are some good reasons for that, but there certainly is a lot of natural beauty and good times to be had right here in the United States. 
An RV is definitely in our near future, and we've got plans to spend time as a family visiting all 50 U.S. States. We just checked off Hawaii, and we plan to return to Alaska, the setting of our honeymoon, with our then teenage boys for our 20th wedding anniversary. That gives us nine and a half years to hit up the rest of the continental 48.]
Name eleven beverages you enjoy. You can be as general or specific as you like.
I haven't had the pleasure of drinking some of PoF's home brews, or they would certainly make the list. But here's what came to mind.

Water
Fresh-squeezed juice of any kind, but especially orange or mango juice
Morocho – an Ecuadorian favorite, served warm and made of corn, milk, cinnamon, and other yummy spices
Belgian Tripel-style beer – if in Cuenca, Ecuador you can find my favorite at Jodeco Belgian Brewery
German-style Hefeweisse (wheat beer)
Czech-style Pilsner
IPA (India Pale Ale) – Dales Pale Ale from Oskar Blues nearby in Brevard, NC is always a favorite
Herbal tea – here is my favorite flavor and brand
Sweet tea – I'm from the south, what can I say:) It's so sweet that I can only have it a couple times per year
Pina Colada – especially with fresh coconut milk and pineapple!
Red wine – especially a good cabernet sauvignon from California or Malbec from Argentina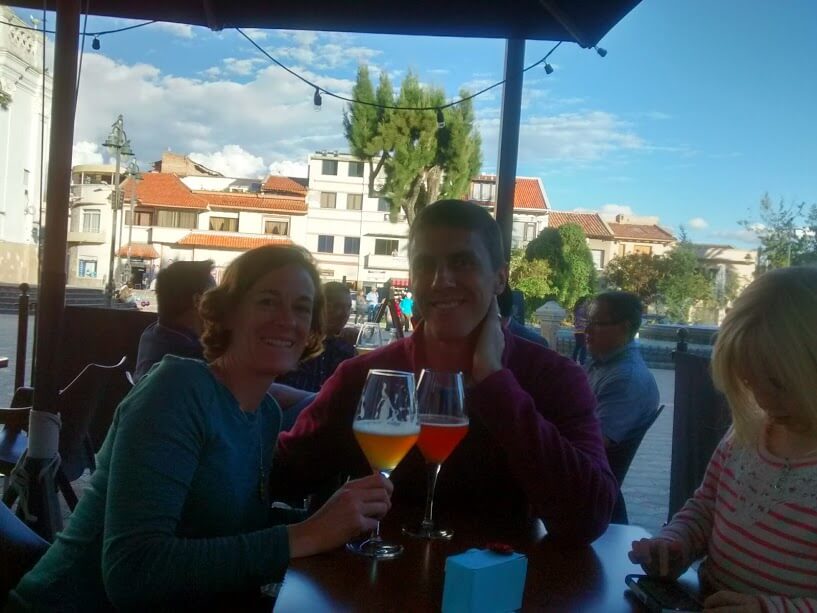 [PoF: Perhaps I'll bring some of my homebrew down to Camp FI Midwest here in Minnesota to rectify the situation of having never sampled my handiwork. Great list!]
Now, eleven foods.
See you if notice a breakfast theme:)
Scrambled eggs with spinach, cheese, and a side of toast
Waffles with fresh fruit and some of the famous PoF maple syrup I've heard about
A BIG fruit bowl with bananas, apples, mango, peaches, grapes topped with granola and yogurt
Corn cheese grits, patty-sausage, and home-made biscuits (another deep-south favorite)
Paella – especially when in Valencia in Spain
A simple, hot, steaming bowl of vegetable soup on a cold day
Tacos al pastor from Mexico
My brother's home-made chocolate cake
Any food from New Orleans
Artesanal chocolate – dark, high percentage of cocoa, and sourced in Ecuador
Peanut-butter and banana sandwich (my specialty)
[PoF: I do notice a breakfast theme. It started with the Dale's Pale Ale above and continued here in the food section. 😉
We enjoyed the tacos al pastor in Guanajuato as you did, and I've been to New Orleans nearly a dozen times. No shortage good food in The Big Easy. 
I can't say I'm on board with the peanut butter banana sandwich, but I probably shouldn't knock it 'til I've tried it.]
You didn't ask what didn't make my list? Like cuey (i.e. pit-rotisseried guinea pig), an – ahem – delicacy in Ecuador. Not my favorite:)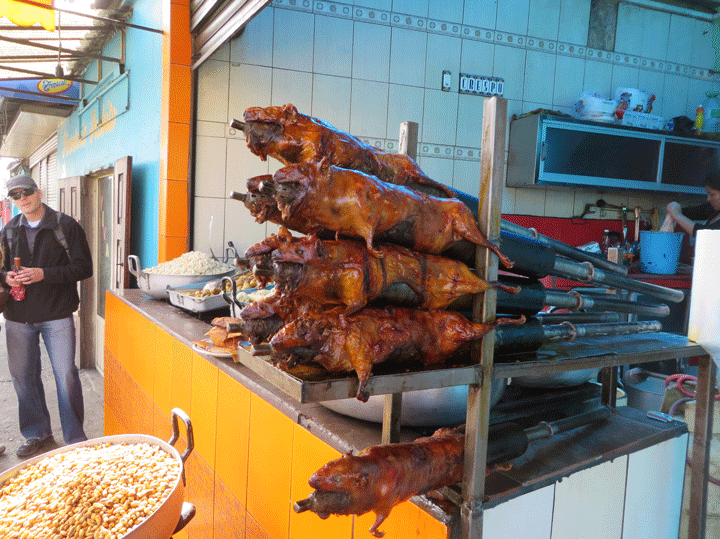 How did you first learn about PhysicianonFIRE.com? What one piece of advice do you have for me?
I think I saw you first with an article on RockStarFinance.com. I liked your writing style and shared your love of craft beer:)
Advice? Sip your beer slowly. Travel often. Enjoy your time with family. Give abundantly of your knowledge and resources. Never stop growing. And have fun.
It seems you're doing those well already!
Thanks for the opportunity to answer your questions and share with your audience. It's been a blast!
[PoF: The pleasure's been all mine, Coach! Well, the cuey picture wasn't all that pleasing, but I thoroughly enjoyed the rest of it. I look forward to continuing to learn from you from both a blogging and real estate perspective. Thank you for taking the time to share your knowledge and wisdom with us.
Readers, be sure to visit Coach Carson. I guarantee you'll learn something about both real estate investing and living a fulfilling life.]