I'm impressed when I hear someone has a seven figure real estate portfolio. I'm doubly impressed when I hear that someone is adding a million dollars a year in real estate to it!
That's exactly what the Banker on FIRE is doing. How is this possible?
It helps to have a high-paying job. It also helps to have income-generating assets, and Damian has both.
Would you believe he manages his properties from another continent? That's true, too. Let's find out how he started and how he's managed to grow his real estate empire from afar. The floor is yours, Damian!
While I love being an investment banker, I'll be the first one to acknowledge it's not an easy slog.
The hours are long and unpredictable. Clients are beyond demanding.
And while those bonuses you hear about can certainly be punchy, they are usually not as good as people think.
It's also not a job for life. In a cut-throat, competitive industry, every year can be your last.
In addition, burnout is common. Over the years, it becomes ever harder to sustain the pace and the pressures.
Thus, the very day I started my career as an investment banker was the day I decided to build a financial safety net.
Being a finance professional, stock market investing was always going to be an important pillar of the strategy.
However, I also wanted to understand how people get rich with real estate.
After all, you simply don't get returns like these in the stock market: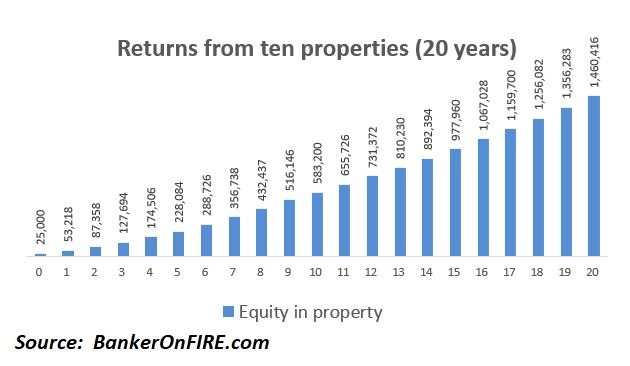 It has now been 11 years since my wife and I first became landlords.
Over that time, we amassed a sizeable portfolio of residential and commercial properties.
(For clarity – we live in the UK, but all of our properties are across the pond in North America given that's where I grew up and where we plan to live longer-term).
When just starting out, we financed the down payments on our properties with income from our day jobs.
Over time, however, the cash spun off by our existing properties has grown from a trickle to a meaningful side stream of income, allowing us to accelerate our real estate journey even more.
As of 2021, our holdings generate passive income well into six figures and on average, we add about $1m of real estate to our portfolio a year.
In other words, short of marrying my wife, getting into real estate was hands down the best decision I've ever made.
While I still enjoy my day job, it's beyond liberating to have the option to step away at any time – and it has only taken us a decade to get to this point.
In today's post, I am going to cover off eight important lessons we've learned along the way.
I hope it becomes a useful reference for those looking to reach financial freedom through real estate investing.
Enjoy!
Lesson #1: It's Important To Start (Small)
As with many things in life, what is most important is to get going in the first place.
My wife and I became landlords by accident.
Two weeks after we bought our first apartment, I was accepted into a top grad program halfway across the country.
It felt quite silly to sell our place so soon after buying it – not least because of all the fees and taxes involved.
Thus, we decided to rent it out instead.
Many people have told us it would be too much of a headache.
Friends and family recounted stories of horrible tenants, plugged toilets (did you notice how it's all about the toilets?), and extended vacancies.
Funnily enough, these same friends and family members didn't have any rental properties of their own.
Thus, instead of listening to them, I've reached out to a childhood friend whose family was in the real estate business.
He helped us find (and screen) our first tenants, a professional couple who stayed for four years.
They had a fantastic credit score and always paid on time. Incidentally, there were no maintenance issues during this time.
When they finally moved out, we simply hired a cleaner and a painter to freshen the place out – and rented it again within 30 days.
Eleven years and three tenants later, this rental property has proved to be a knockout investment, delivering a 19% annualized return for us – with very little headache along the way.
Returns From Our First Property:
*Denotes cash shortfall (rental income less mortgage and other expenses)
Most importantly (as you can tell from the chart above) we've been able to refinance it along the way, freeing up capital to help us buy more properties.
We didn't know this at the time but holding on to that apartment was the first step in a long and profitable journey.
And all the people who told us to stay away from being landlords are still sitting on the sidelines, worrying about all the "hassle" of being a landlord.
Lesson #2: Don't Be Afraid To Experiment
Given our experience above, it would have been easy for us to stick to single-family apartments (which we did for a while).
However, don't underestimate the benefits of branching out.
Last year, we dipped our toes into commercial real estate, buying a mixed-use property in the midst of a pandemic.
Nine months later, it looks like our best property investment to date. As a result, we will look to scale up this part of our portfolio.
And most recently, we tried out yet another segment of the market, buying a single-family, detached house for $1.6m.
It's probably one of the riskier moves we've made, but having done our homework, we feel pretty comfortable with the risk-reward profile of this investment.
If you are just starting out, you probably don't want to jump in head over heels.
Equally, don't be afraid to venture out once you've got more experience.
Looking at different property types and market segments has helped us unlock some very lucrative deals over time.
Lesson #3: Ignore "Doors"
For some reason, there's a minor obsession with "doors" in the real estate industry.
Some folks like strutting around telling others they own 20, 50, or even 100+ doors.
On one hand, you probably don't want to tie up your entire net worth in one property and location. That's clearly too risky.
On the other hand, consider two $5m real estate portfolios.
Portfolio A has 100 properties worth 50k each.
Portfolio B, on the other hand, has just 10 properties – but they are worth $500k apiece.
Which one would you go for?
I'd take portfolio B any day of the week.
First of all, owning 10 properties allows for sufficient diversification.
At the same time, it takes considerably less time and money to source and acquire 10 properties than 100. Just imagine having to line up mortgages and purchase docs on 100 units!
Just as importantly, the latter portfolio would also be much easier to manage (even with a property management company) and refinance over time.
Lesson #4: Take The Time To Understand Your Returns
Over time, I've come up with an interesting observation:
Most individual real estate investors don't know how to measure their returns.
Now, this is pure madness. Can you imagine not knowing what return your stock market portfolio is generating?
And yet, very few people can explain what a cap rate is – or understand the concept of an IRR.
Fundamentally, there are three things that drive your real estate investment returns:
Cash flows (over and above your expenses and mortgage interest)
De-leveraging (your tenants paying off your mortgage over time), and
Property price increases (100% of which accrue to you as the landlord).
Ultimately, they all add up to the magic below, turning an initial $25k investment into $200k:
The good news is that there's only one book you need to read to understand the numbers behind real estate investing.
Last year, I've also shared a spreadsheet I use to analyze investment properties. You can download it here.
To sum it up – you may get lucky with one or two properties without understanding the numbers.
But there's no way you will become a truly successful real estate investor if you don't understand the math behind the properties you are buying.
Lesson #5: Protect The Downside
There is an investing quote that goes as follows:
"Protect the downside and the upside will take care of itself."
If there's one thing you want to keep in mind on your real estate investing journey, this is it.
When my wife and I evaluate properties, we build a "downside case" for every investment.
It reflects highly pessimistic assumptions around vacancy rates, rent increases, price growth, renovations required, taxes, etc.
We then tack on a healthy contingency expense (usually around 1-2% of total rental income) and run the numbers on that basis.
The result is never spectacular – but that's not the point.
Instead, it's about knowing that even if everything goes wrong, we will still eke out a 1% or a 2% return on our money.
That gives us the comfort that we won't lose our principal – and allows us to focus on our "base case", finding ways to turn the investment into a home run.
Lesson #6: Do Your Diligence
I can't say this enough.
So many amateur landlords complain about horrible tenants. And yet, they don't even bother to check the applicants' credit scores, references, and criminal records.
What gives?
You are about to let these people use one of your most prized possessions and you aren't even willing to do the right background checks?
Don't be that person. You may get lucky once or twice, but at some point, you could end up with a nasty surprise on your hands.
The same applies to keeping an eye on your property managers.
It's enticing to think they will look out for your best interests.
Some do. The vast majority – even the good ones – will never look out for your interests as much as you would.
It's worth keeping a close eye on them.
Lesson #7: Build The Right Team
Real estate investing is not a one-man (or woman) show.
The people around you can be critical to your success.
Lining up a solid team of agents, bankers, lawyers, and property managers will help you find the best properties, finance them at the most attractive rates, structure acquisitions in a way that minimizes risk, and run properties in a value-maximizing way.
While real estate is a transactional business, you do not want to deal with your team in a transactional way.
Treat them as long-term partners and they will have a vested interest in helping you grow and succeed.
This is especially true if you happen to be investing long-distance or even overseas.
Sure, my wife and I are able to rely on a few family members to check out properties we are interested in buying.
But sourcing and running a multi-million property portfolio would be impossible if we didn't have a proven team of real estate professionals to lean on.
Lesson #8: It's NOT Rocket Science
I am over a thousand words into this post, and it feels like I'm just scratching the surface.
There's a ton of other topics I'd like to cover – from choosing between real estate and the stock market, to the topic of infinite returns, as well as an honest look at some of the real estate investing challenges you may encounter along the way.
Alas, you simply can't do so in a single blog post, so let me leave you with the most important lesson of all:
You Can Do It
Now, I am not a physician, but what I do know is that it takes a ton of intelligence, hard work, and persistence to become one.
If you managed to pull that one off, then you have definitely got what it takes to become a successful real estate investor.
It won't happen overnight, and it will take a fair bit of work, experimentation, and self-education.
But when it does happen, you may well realize it was the best decision you've ever made.
Thank you for reading – and happy investing!
Damian (aka Banker On FIRE)
Do you invest in real estate? What have you learned from your real estate investments?